Welcome to www.Robotics.htmlplanet.com

On this website I will discuss all my robot projects.
This website was last updated on January 31, 2001. I have not really added anything new. Good News! I have completed my TRaCY kit, but I have to redo some psrts before I'll take pictures. I won a Vision Comand set on ebay for 44.50 dollars total. Great deal! Also on my to do list is to hack a 660 sonar board i got from a sonar camera. Also my friend Dan is giving me a onestep sonar board. Fun!


This site is no way affiliated with Lego or LegoMindstorms. This is a fan created site.





Welcome! This site is under construction and is being updated daily!
Hello! What I currently use to build my robotic projects is Lego Mindstorms. I own the RIS, RDS, DDK, and the VCS and sevral other sets and parts. I currently a proud owner of a TRaCY kit. Check out my favorite links page to check out the TRaCY kit. Please enjoy my site!
Comments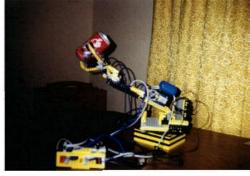 This is a picture of my Pneumatic Grabber Arm by me.
I made this arm for robotic arm contest on the LegoMindstorms website. It took me about one month to build, and less then two hours to take apart and sort all the peices into their right places. I had several other versions of an arm before this. Thats why this took a month to complete. -William

I am currently learning Nqc. It is a powerful language, and it is easy once you get the hang of it. Click the above picture to learn more about Nqc.